Diamond Sharpening Film for Work Sharp Precision Adjust Sharpener
Diamond Sharpening Film for Work Sharp Precision diamond sharpening film with peel and stick adhesive backing that upgrades performance and versatility simply be attaching the abrasive to the fixed stone or sharpening surface.

Features:

• Cost much less than replacement plates
• Precision diamond abrasives
• Pressure Sensitive Adhesive backing (PSA)
• Attaches to most stones or any blank
• Sized for Work Sharp Precision Adjust (1/2" X 4")
• Made in the USA

10 Grit Diamond Set option includes 30 films total:

• (3) 180 Grit (80 micron)
• (3) 240 Grit (60 micron)
• (3) 320 Grit (45 micron)
• (3) 500 Grit (30 micron)
• (3) 1,200 Grit (15 micron)
• (3) 1,800 Grit (9 micron)
• (3) 3,000 Grit (6 micron)
• (3) 6,000 Grit (3 micron)
• (3) 16,000 Grit (1 micron)
• (3) 60,000 Grit (0.5 micron)

4 Grit Diamond Set option includes 12 films total:

• (3) 180 Grit (80 micron)
• (3) 320 Grit (45 micron)
• (3) 500 Grit (30 micron)
• (3) 1,200 Grit (15 micron)

Unlike common sandpapers, these industrial sharpening films are designed for cutting metal and have the grit (diamond particles) anchored in a layer of resin. The resin holds the grit to the paper in a very strong bond. You'll notice how they are more durable and last longer than traditional grade papers.

Our Diamond lapping film is our most aggressive abrasive film. The extremely hard diamond particles sharpens fast and last longer than any other material. These films comes with pressure sensitive adhesive (PSA) backing and is a wide range of abrasive grades from 0.5 Micron to 80 Micron, for precise performance.

Sharpo's diamond lapping film have a 3mils thick (.003") backing to make the film less prone to tearing. The adhesive (PSA) backing makes it very easy to use. Simply peel off the paper backing and press it down on a flat, smooth surface.



Included Film

Diamond 10 Grit Set (30 Films Total)
QTY
Grit
Micron
Color
Reference
3
180
80
Red
3
240
60
Natural
3
320
45
Gold
3
500
30
Green
3
1200
15
Orange
3
1800
9
Blue
3
3000
6
Brown
3
6000
3
Pink
3
16000
1
Light Tan
3
60000
0.5
Light Grey

Diamond 4 Grit Set (12 Films Total)
QTY
Grit
Micron
Color
Reference
3
180
80
Red
3
320
45
Gold
3
500
30
Green
3
1200
15
Orange
All of Sharpo's sharpening film share these great features:

• Precision Graded: Superior to traditional sandpapers.
• Faster: Unlike whetstones, prep work is not necessary. Start sharpening right away.
• Easier: The films adhesive back adheres to glass and easily peals away when ready to be replaced.
• Stronger: Water proof and oil resistant. Lasts longer than sandpaper.
• Precise: More grades allows for micro precision and extreme sharpness.
• Manufactured in the USA.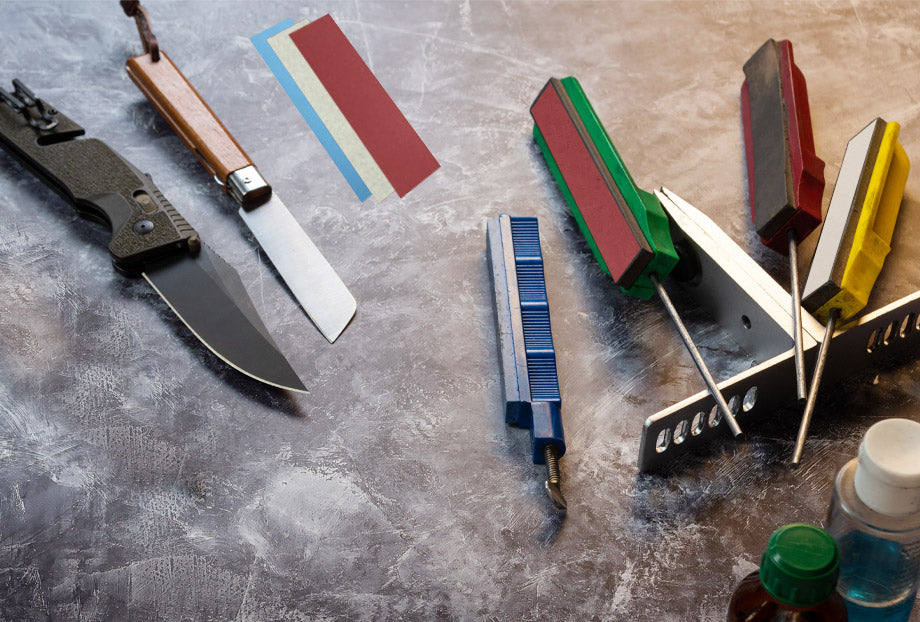 "Made a good sharpener great..."
Dramatically increases the versatility and performance of other sharpening systems that may have limited grit sizes or worn abrasives.