Diamond Film 4 Grit Set 3" X 9"
Diamond Film 4 Grit Set includes 12 films total:

3 Sheets 3" X 9" 320 grit (coarse medium)
3 Sheets 3" X 9" 500 grit (fine)
3 Sheets 3" X 9" 1800 grit (extra-fine)
3 Sheets 3" X 9" 3000 grit (ultra-fine)

Sharpen your knives with diamond abrasive film and get to a razor edge faster. Diamond is the hardest abrasive material designed to cut very fast and last longer. An extremely effective sharpening set that outperforms more expensive whetstones! Each film comes with pressure sensitive adhesive (PSA) backing to easily apply to glass or any smooth flat surface.

• 3" X 9" size perfectly fits Sharpo Sharpening Sets.
• The included grit sizes is an extremely effective sharpening set.
• Larger sharpening area - more than 60% compared to sharpening stones.
• Pressure sensitive adhesive adheres the sharpening film to any smooth flat surface.
• Easy to use, simple to replace.

Included Film

Diamond Sharpening Film
QTY
Grit
Micron
Color
Reference
3
320
45
Gold
3
500
30
Green
3
1800
9
Blue
3
3000
6
Brown
All of Sharpo's sharpening film share these great features:

• Precision Graded: Superior to traditional sandpapers.
• Faster: Unlike whetstones, prep work is not necessary. Start sharpening right away.
• Easier: The films adhesive back adheres to glass and easily peals away when ready to be replaced.
• Stronger: Water proof and oil resistant. Lasts longer than sandpaper.
• Precise: More grades allows for micro precision and extreme sharpness.
• Manufactured in the USA.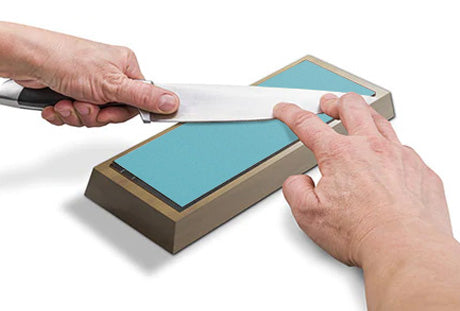 "Gets to an extremely sharp edge faster than my sharpening stone..."
Sharpen faster with sharpening film engineered to cut and polish metal.
Revised Review, It's ok
I have come to find out the 1200 grit doesn't last very long AND the adhesive stays on whatever it is applied to and therefore makes a big mess problem cleaning it off before I can apply another sheet in its place! The 500 and 3000 grit seem to last a little longer and the adhesive pulls off with the sheet which is perfect and ideal to replace the new sheet. I'm going back to using diamond stones for a few reasons. One is, I have to be careful with these sheets because they will scratch easily and tear if I am not careful with blade placement.
Just as described!! Great
Exactly what I wanted for my glass slabs. Gets all of my carving tools wicked sharp. Even attached to dowels for my hook knives. Will be buying more of it shortly.