Regular price
$49.00 USD
Sale price
$34.99 USD
Unit price
per
Sale
Sold out
Features

• Includes precision graded microfinishing sharpening film
• Selected grit grades for ideal coarse / fine combination
• Film is reusable, water proof and tear resistant
• Pressure sensitive adhesive secures the sharpening film to the glass plate making it easy to use and simple to replace
• Large 3" X 9" sharpening area (40% larger compared to sharpening stones)
• High quality perfectly smooth glass plate provides ideal sharpening surface that never dishes out and no need to flatten and dress like sharpening stones
• No need to presoak in water, just a few drops of water or vegetable oil will do
• 20 Degree sharpening angle guide is included
What's Included

• USA Hand-Crafted Wood Base
• Plate Glass 3" X 9"
• Fast-Sharpening Microfinishing Sharpening Film (6 Sheets)
• 2 Grit Sizes (800 , 2000)
• 3 Sheets Per Grit Size
• Pressure Sensitive Adhesive Backing
• 20 Degree Angle Guide
Dimensions

• Wood Base 4 1/16" X 10 1/8" X 1"
• Plate Glass 3" X 9" X 5/16"
• Sharpening Film 3" X 9"

View full details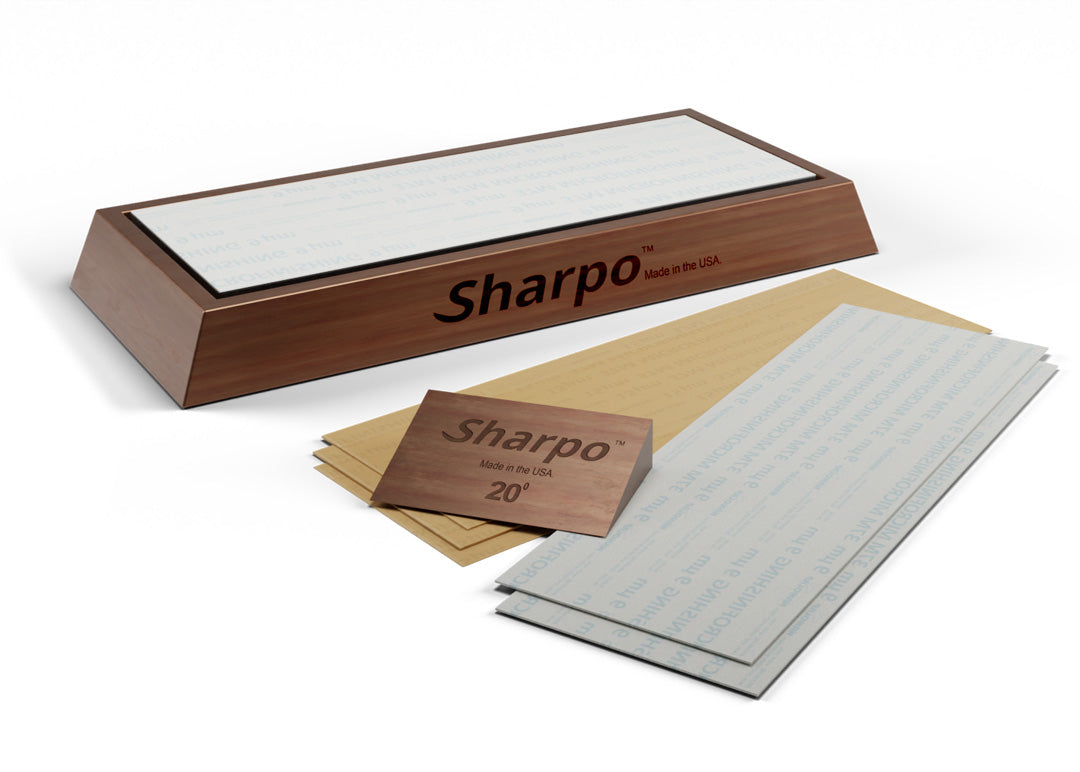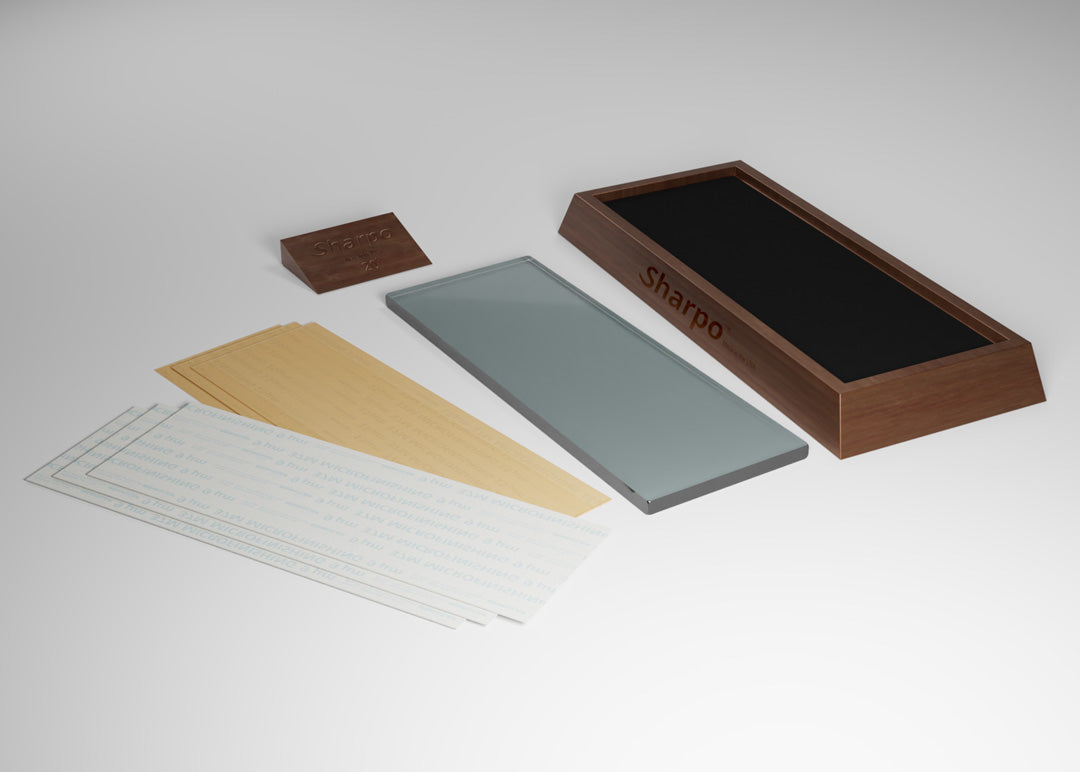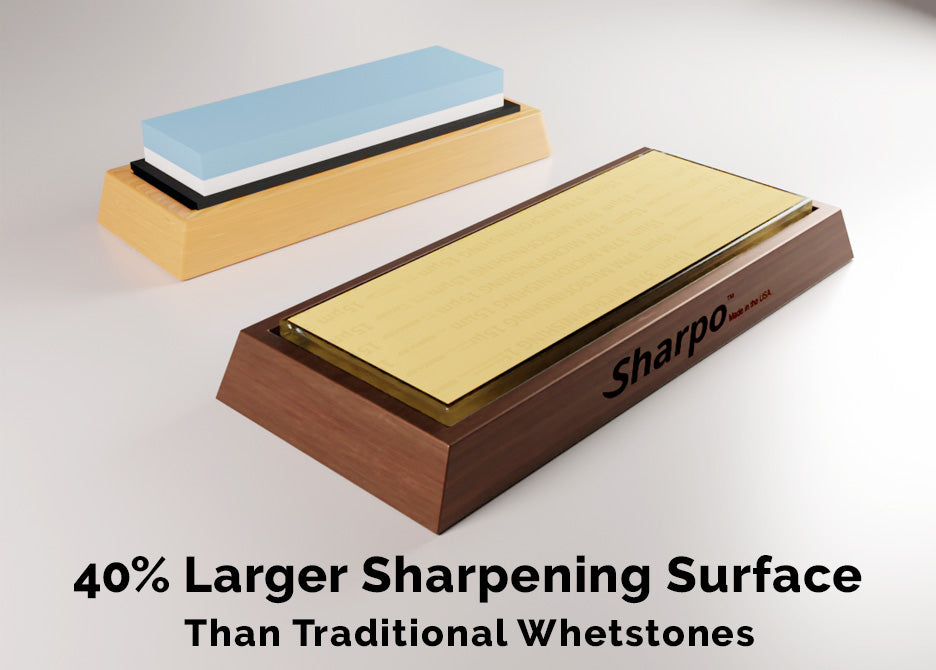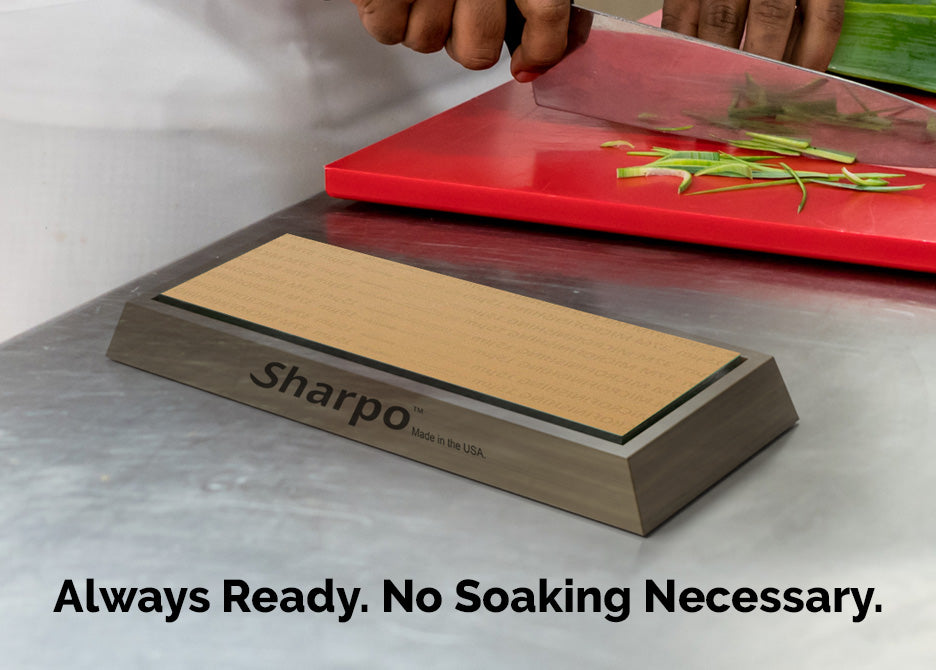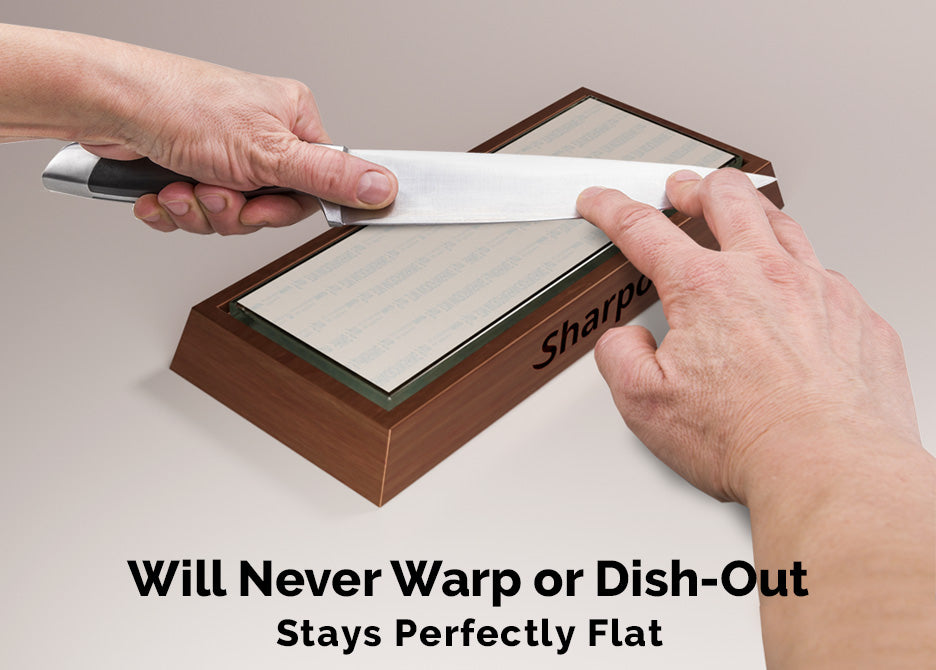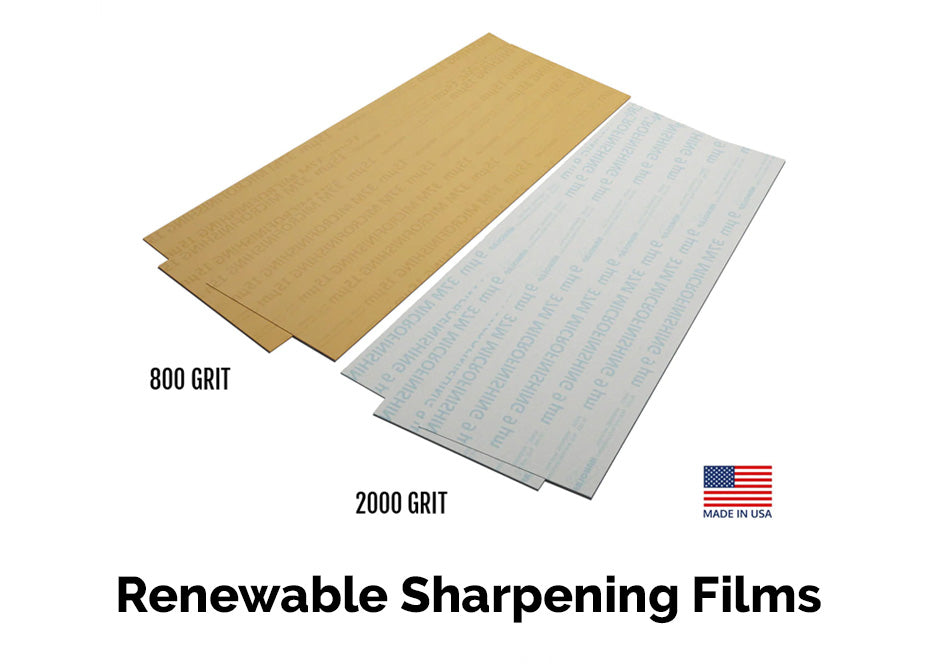 Sharpo Pro Sharpening Set

Our most popular sharpening set makes it easy for newcomers and pros alike to get started sharpening their blades straight out of the box. Just apply the sharpening film onto the smooth, perfectly flat plate glass and sharpen away!

Sharpo's simple but extremely effective sharpening set outperforms more expensive whetstones! Always sharpen your knives with a perfectly flat, large sharpening area - no prep necessary.

This set features your choice of tough microfinish sharpening film. <span class="bold">Premium diamond sharpening film</span> upgrade is available. These films are used in demanding industrial applications. They sharpen faster and cleaner than other sharpening systems and are easily replaceable for a fraction of the cost!

The included glass plate will accommodate 2 films (1 grade on each side).

How to use:

To use, simply peel off the paper liner from the sharpening film, and apply the film to the glass plate. Be careful to avoid trapping air bubbles during this process. Spray some water or use a few drops of vegetable oil on the surface on the film as lubrication for the sharpening process. This will prevent swarf buildup and allow your films to be used longer!

Begin with the lower grit size (coarse to fine, depending on how dull the knives are). Use the Angle Guide for a reference of a proper sharpening angle (20 degrees). Use push or pull strokes with the direction of the non-cutting top edge leading. Step down the sequence of grits until desired sharpness is achieved.


Included Film

Microfinishing Sharpening Film
QTY
Grit
Grade
Color
Reference
3
800
Medium
Orange
3
2000
Fine
White / Blue

These premium abrasive films are manufactured with precisely graded particles. Consistent uniformity in size and distribution with very high density.
Let customers speak for us